Comparative Allometry and Sexual Behavior of Four Fruit Fly Species in the Tribe Ceratitidini (Diptera: Tephritidae)
artículo científico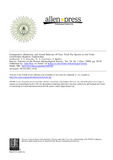 Fecha
2005
Autor
Briceño Lobo, Daniel
Eberhard Chabtree, William G.
Quilici, S.
Resumen
Sexual dimorphisms in four related species of tephritid flies were shown to be associated with differences in sexual behavior. In two species, Ceratitis capitata and C. catoirii, males and females approach closely head to head and apparently touch aristae, and the male buzzes his wings, probably fanning pheromone toward the female; the males were found to have longer aristae with fewer microsetae, and larger posterior areas of their wings than do females. These dimorphisms were absent in the other two species, C. rosa and Neoceratitis cyanescens, which court at a longer distance and in which the male does not fan pheromone toward the female prior to mounting. All three pairs of legs were proportionally longer in the males of all four species. None of the other sexually dimorphic male signalling traits showed the positive allometric slopes predicted by some theories.
Enlace externo al ítem
10.2317/JKES-0312.02.1
articulo (arbitrado)--Universidad de Costa Rica. Escuela de Biología, 2005. Este artículo es privado debido a limitaciones de derechos de autor.